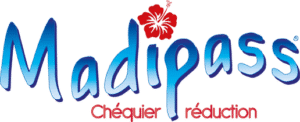 The best deals in Martinique since 2006 !
MADIPASS is 120 vouchers valid at nearly 100 partners for 30 euros, sign up for the newsletter on the website for more information on the checkbook Madipass.
Become a MADIPASS Club Member for even more benefits 😉
Like our Facebook page !
MADIPASS MARTINIQUE +33769751783
www.madipass.com
Follow all our news on Facebook, Twitter, Instagram et Linkedin
Registration to the recommended newsletter on www.madipass.com