About Martinique
This beautiful island combines the best of European culture with exotic beaches and palm trees. It's a tropical island yet it will surprise you with its enjoyable food, and great bread, wine and cheese imported from France.
And, if that's not enough to tickle your taste buds, Martinique's distilleries make one of the best rums in the world.
As a part of France, the island has high living standards, clean streets, convenient flight connections, good medical care, safety, quality roads, among other things.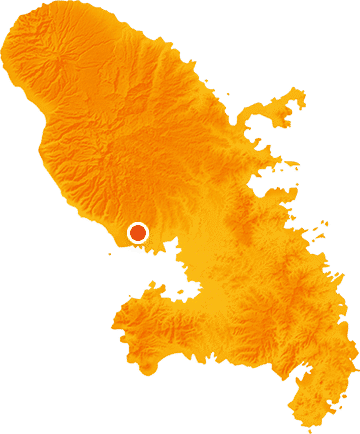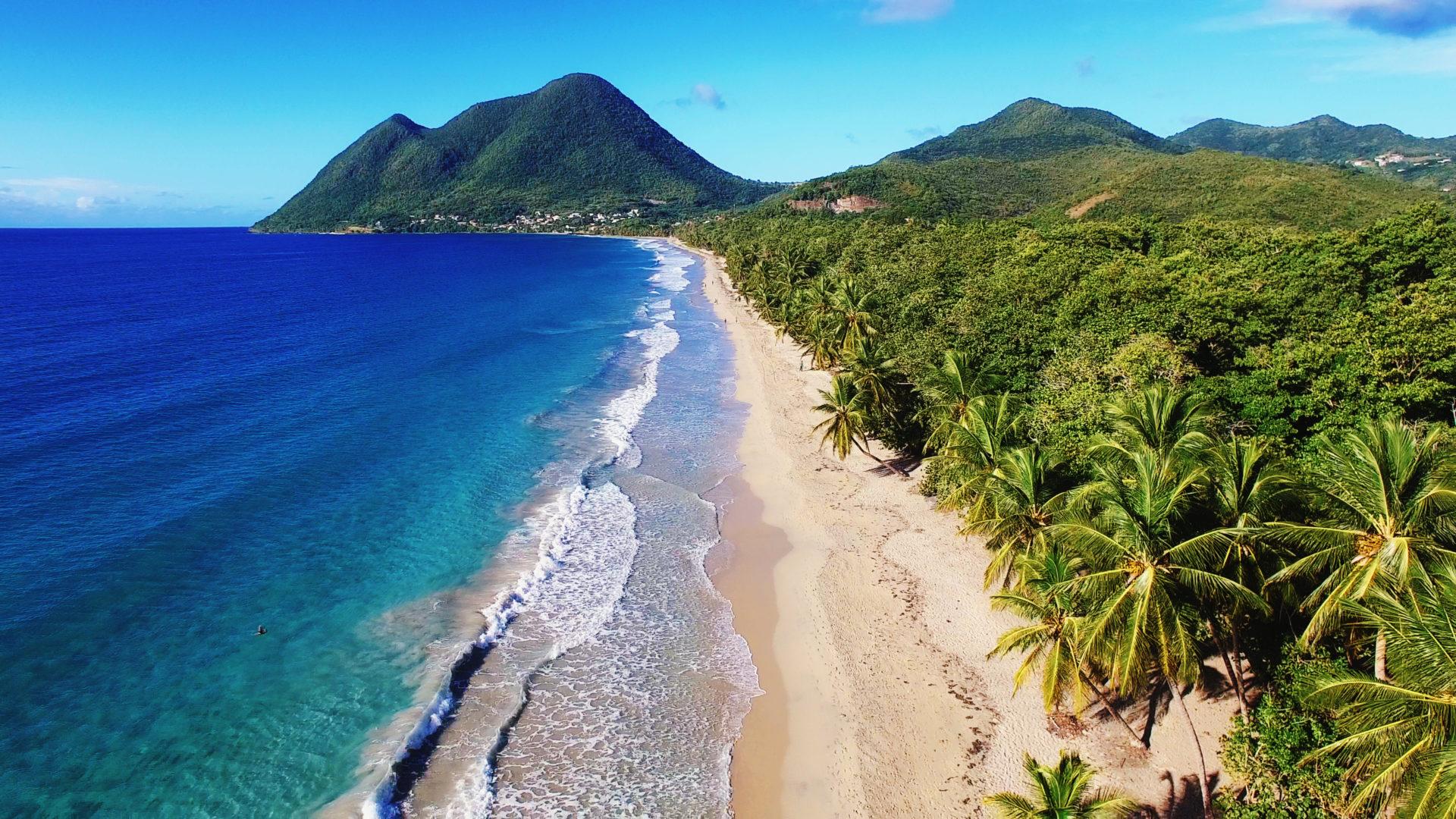 Beaches
The biodiversity is remarkable, including the green rainforests, tropical flowers, volcanoes and beaches. You can find more than 60 of them with sand of all colours, from white, golden and pink to grey and black.
More beaches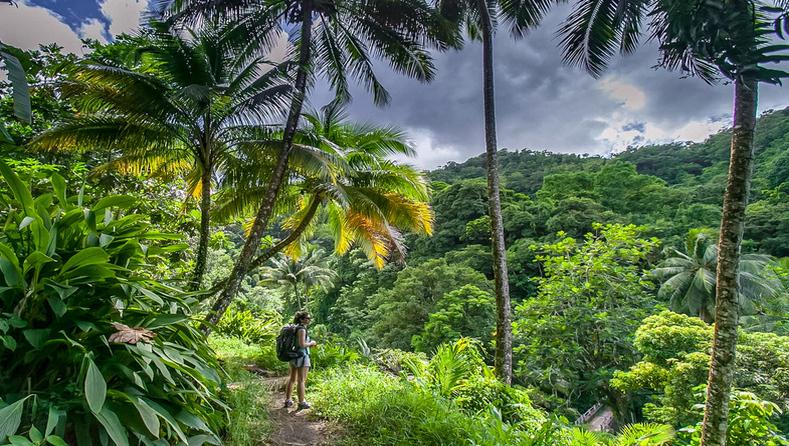 Hikes
For travelers who prefer a little more action, there's plenty of hikes with a range of difficulty levels. And they all offer stunning scenery and beautiful views. Discover tropical forests, and refresh yourselves with a dip in waterfalls and rivers.
More hikes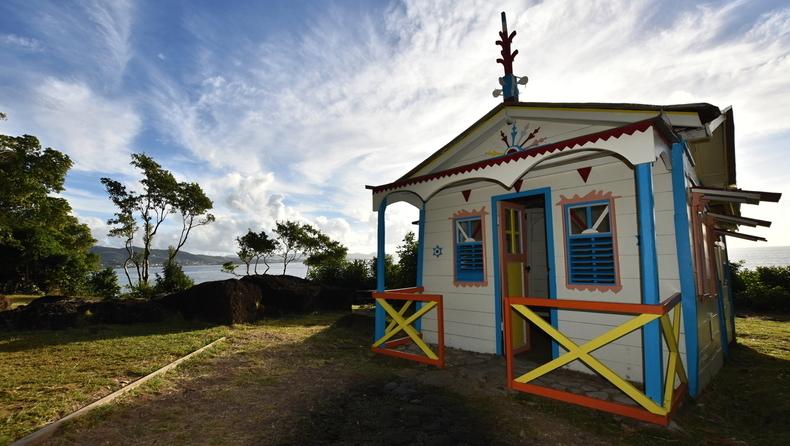 Sights
If you're a sight lover and like to include culture in your getaways, then there are lots of museums, galleries, and historical places you can roam around. In our guidebook you'll find a complete list of all the beaches, hikes and sights on the island.
More sights
General information
Size :
1100 km² (425 mi²), 80 km (50 mi) long and 35 km (22 mi) across at its widest point
Capital City:
Fort-de-France
Density:
340/km² (890/mi²)
Prezident:
Emmanuel Macron
President of an executive council:
Alfred Marie-Jeanne
Coordinates:
14°40′0″N, 61°0′0″W
Languages:
French, Creole
Climate:
temperatures average 27°C (80°F) with two regular alternating wind currents (les Alizés) keeping the island cool
The highest point:
the volcano Mount Pelée at 1,397 m (4,583 ft)
Religion:
Roman Catholicism, Seventh-Day Adventist, Jehovah's Witness, Methodist, Evangelical, Baptist, Jewish, Hindu and Islamic.
Electricity:
voltage is 220 AC. Visitors travelling with hair dryers, electric shavers and other appliances made in the U.S. will need power adapters.
Useful tips
HEALTH AND MEDICAL CARE
Martinique has a good health system as it's a part of the EU. There are no vaccinations needed to enter the island. Medical care is similar to that in France with high standards.
MONEY AND PAYING METHODS
The currency is Euro (EUR/€). All credit cards are accepted at most places. Pay attention, if you are trying to exchange money for Eastern Caribbean dollar. The rate is around 1 USD = 2,7 XCD / 1 EUR = 3,2 XCD.
EMERGENCY
The universal emergency number: 112 Police: 17 Fire department: 18 Ambulance: 15 SOS Doctor: + 596 596 63 33 33 Sea Rescue: + 596 596 70 92 92
SUN AND DAYLIGHT
Average daylight: 12 hours Average sunrise: 6am Average sunset: 6pm Consider that the Caribbean sun is strong and has one of the highest UV radiation levels because of its proximity to the equator.
OFFICES AND OPENING HOURS
Most of the offices are closed after 16:00 and 16:30, some of them are closed during the lunch break.
CALLING AND INTERNET
Martinique has country code +596 There are no extra charges for EU countries. If you have EU sim card, calling, texting and data are included in your monthly plan. There is good internet service in Martinique. In the centre of Fort-de-France, there are many spots with free wifi
SAFETY
Martinique is considered as one of the safest islands in the Caribbean. However, it's not advised to walk alone at night in the dark suburbs, side streets of Fort-de-France and isolated beaches.
ENTRY AND VISA
The EU citizens including Andorra, Monaco, and Switzerland can travel to Martinique only with a valid ID card, a passport is not required, however, it is safe to have it in case of visiting other islands around or changing flight outside EU countries. US, Canadian, British, Australian and New Zealand citizens don't require a Martinican VISA for a stay of up to 90 days but they need a valid passport 6 months past the departure date and return ticket. For other countries, check the VISA policies at The Ministry of foreign affair.
ROADS AND TRAFFIC
There is a good network of roads in Martinique and most of the roads are high quality and meet the European Standards There is a tolerance of 0,5 promile of alcohol in the blood when driving. Watch out for heavy traffic jams, due to insufficient public transport, everyone drives a car which causes collapse on the roads.