Beaches in Martinique
The biodiversity is remarkable, including the green rainforests, tropical flowers, volcanoes and beaches. You can find more than 60 of them with sand of all colours, from white, golden and pink to grey and black. The north is famous for its wild black sand beaches, dark due to the volcanic activity while the most popular touristic white sand beaches are on the south Caribbean coast. If you are a fan of surfing, kitesurfing or windsurfing, then head to Tartane, Vauclin or Anse Michel for perfect waves and wind.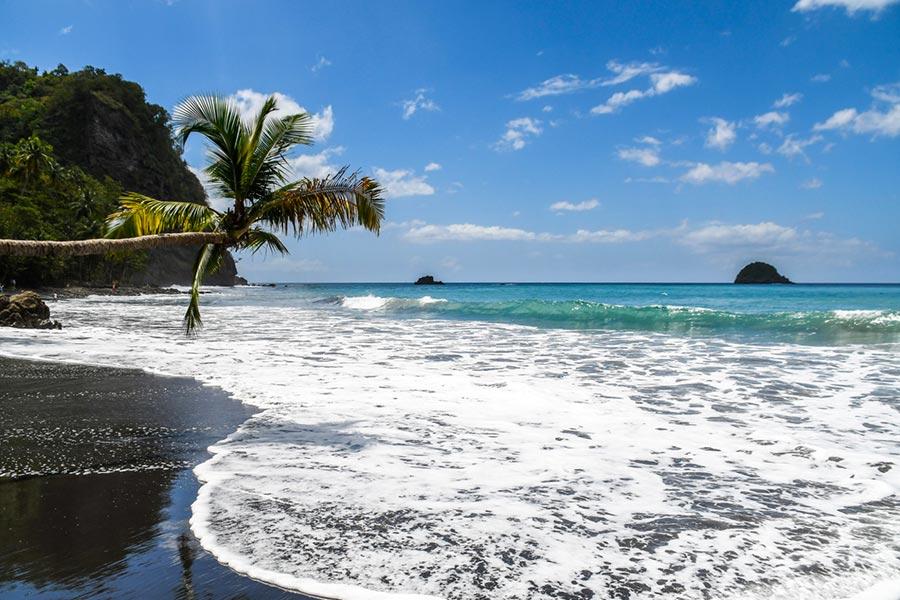 Anse Couleuvre
A good choice if you are looking for a remote spot of wild beauty. This beach is located in the very north of Martinique and features beautiful black sands bordered by coconut palms. Overhanging cliffs make this location seem even more perilous with their rocky prominences. The waters here are unpredictable, sometimes they allow you to enjoy snorkelling and swimming and at other times, you can have fun in big waves.
However, be aware of the current, as it can be quite strong depending on the weather conditions. Many consider this to be an authentic landscape and enjoy spending time in this idyllic setting.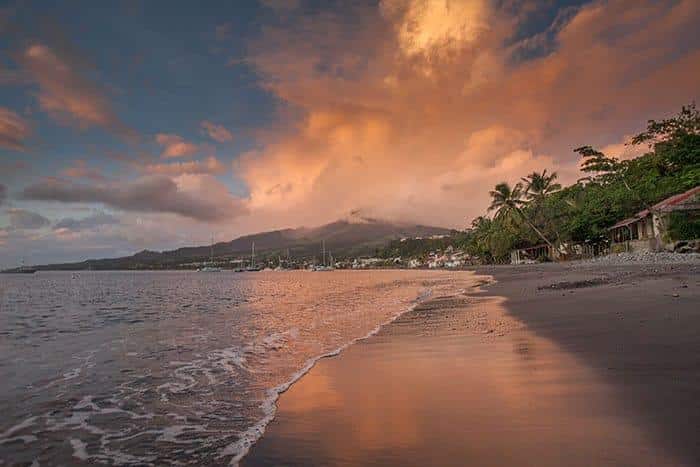 Carbet
This beach sits just along the town of the same name and offers a wide variety of activities.Everything from paddle and kayak rentals, to fishing, windsurfing and beach games.
This area is also famous for its restaurants and festive atmosphere. There are picnic tables where you can enjoy meals with your family. The waters are usually calm, but keep in mind that they can deepen quickly.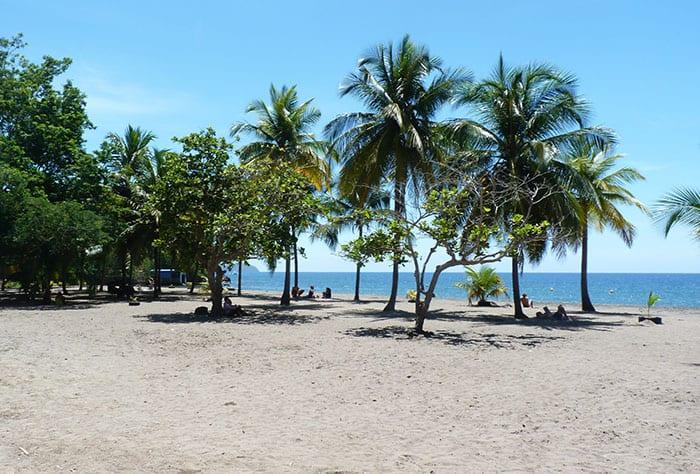 Madiana
Madiana offers a wonderful, idyllic place to enjoy some peace and relaxation.
The beach is located in the centre of Schoelcher but is far away enough from houses so it doesn't feel like you're in the middle of town. The waters here are tranquil and you'll find pleasant shade under the trees accompanied by a grey, sandy beach. It's a safe place to take your whole family swimming, even small kids.
This spot is a widely frequented by the locals.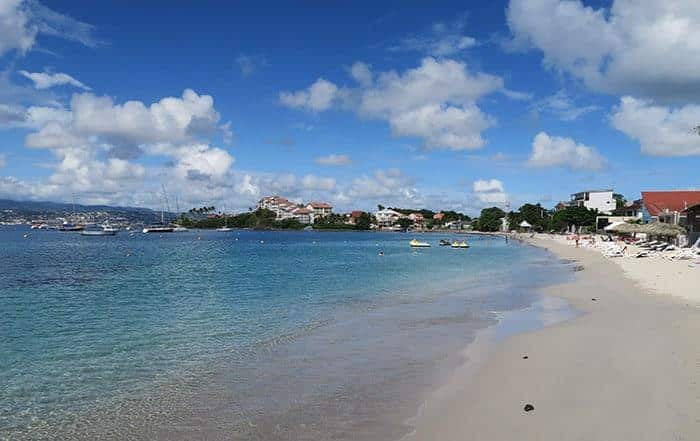 Anse Mitan
A popular beach known for its magnificent views of the Fort-de-France bay and its variety of entertainment. If you are a fan of snorkelling, you will appreciate the coral reefs which line the left side and reach far into the sea and you can admire various seabeds and colourful fish.
The many restaurants provide a wide range of food, from grilled lobsters to traditional Martinican food. In the evening the place becomes lively and you can enjoy the bars, music and more. This is an often packed beach where people of all ages enjoy spending time.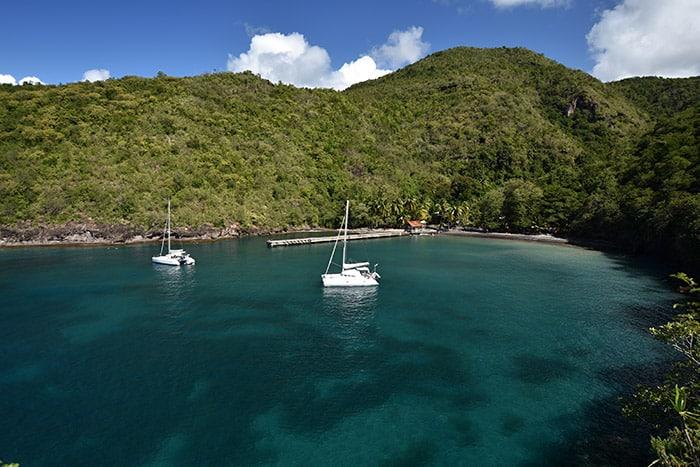 Anse Noire
A lovely beach on the Caribbean coast. It is the only beach on the south with black sand. Don't forget to bring your snorkel and fins as the bay here presents an opportunity for a beautiful underwater experience. You'll find many species of fish, sponges and sea fans. You may even get lucky and see a few turtles. The hills, coconut palms and the pier in the middle make it an idyllic place and if you are brave enough, you can jump from the cliffs on the left side into the crystal-clear water.
This place is more enjoyable from a boat as due to its popularity, the beach is usually very crowded.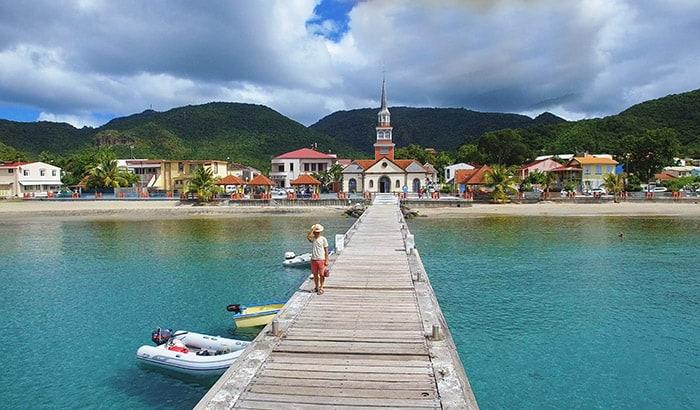 Anses d'Arlet
This is one of the most charming places on Martinique, with its picturesque fishing village, creole houses, small 18th century Roman Catholic church and a pier directly in front of it. The beach is long and sandy, and you can jump off the pier into the turquoise waters. This spot is wonderful for picnics and swimming. You can explore the rock full of corals in the middle which is a home to many species of colourful fish. You can even buy here fresh fish directly from the local fishermen.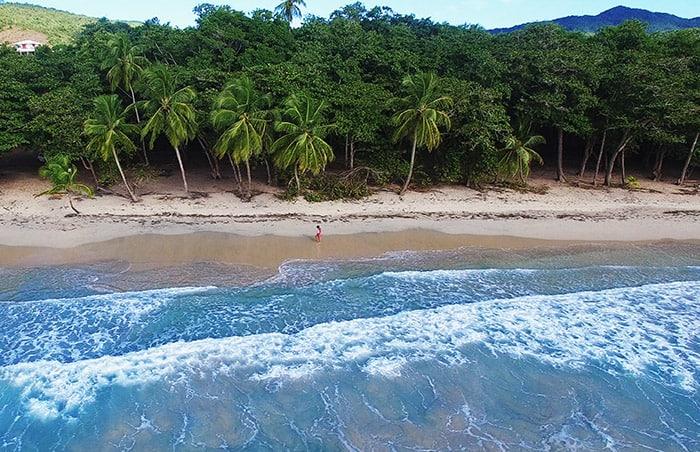 Grande Anse du Diamant (Dizac)
Located in the village of Diamant, this beach is one of the largest and most famous on the island. The direct view of the Diamond Rock is stunning. Due to its length, about 3 km, it is a favourite beach for joggers. Sometimes there are strong currents which can be dangerous, if you see a red flag keep in mind that swimming is no longer allowed. This beach has picnic areas scattered in the shade of coconut palms. You'll also find bars and restaurants nearby.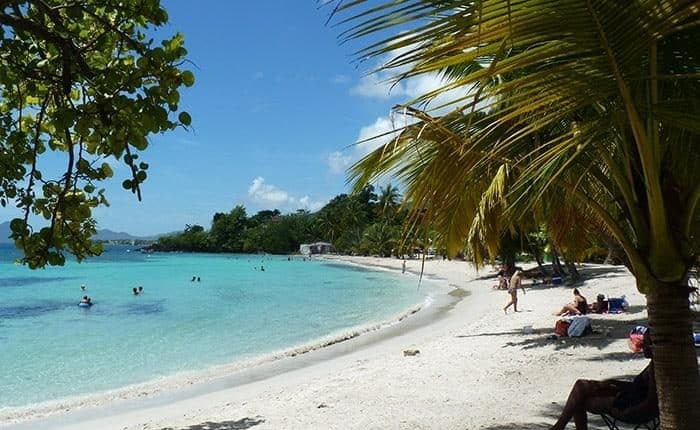 Anse Figuier
If you are looking for a picturesque Caribbean beach with crystal water then Anse Figuier is a great choice for you. It is an attractive spot to snorkel. Be sure to check the rocks bordering the cove. Here you'll discover a colony of sea urchins, with colourful tropical fish. To see the most beautiful species, try snorkeling in the late afternoon hours.
You can profit from wooden tables perfect for having lunch while enjoying beautiful views of Morne Larcher and Diamond Rock. An Ecomuseum is situated near here, where you can learn about the ancient people of the Caribbean. You may want to avoid this beach on the weekends and during school holidays as it becomes very packed and noisy.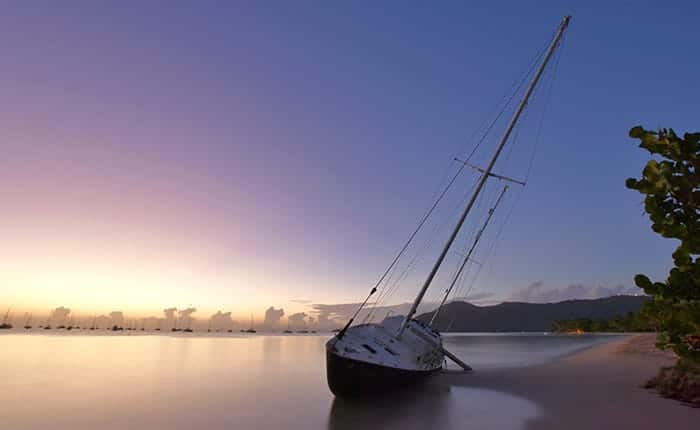 Pointe Marin
A pleasant place to watch the boats and ships come and go along the shore. The setting is refined and easily accessible with modern roads. This beach has calmer waters and white sand, and is therefore a great place for families with kids. You'll find shady areas to get out of the sun and various restaurants and bars where you can find refreshments and a good meal. A variety of different stands can be found, where you can rent equipment, including kayaks. In this area, you'll find Club Med, a popular tourist resort.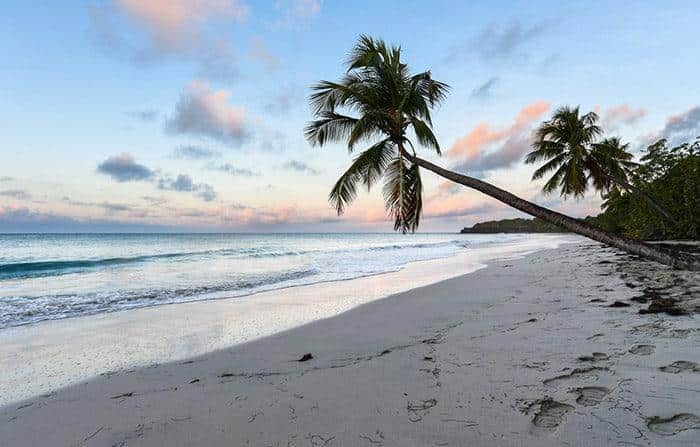 Grande Anse des Salines
Les Salines is considered one of Martinique's most beautiful beaches. It is located near the south-east end of the Sainte-Anne peninsula, and offers charming views and 1 km of golden sand. The coast is bordered by coconut palms and the sea here is calm. You'll enjoy pleasant swimming here. In addition, you'll find street vendors selling trinkets, jewellery and all types of foods and refreshments, including homemade ice cream, fruit juice and more. Les Salines also includes some small restaurants and bars where you can enjoy local specialities such as colombo chicken or grilled fish. Note that this is one of the most popular beaches so it can often get crowded.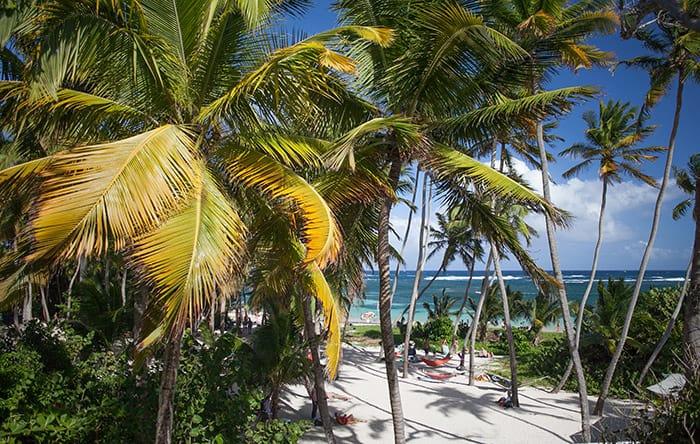 Anse Michel/Cap Chevalier
This lovely place and its shallow crystalline water is perfect for relaxing and swimming. You'll enjoy the pleasant cool shady areas provided by the numerous coconut trees. Windsurfers and kite surfers find this an excellent area to have fun. In addition, you can rent jet skis and more. The beach also includes some benches, picnic tables and local restaurants which serve excellent food. If you prefer more privacy, take a walk along the coastline to the north and you will discover other beaches.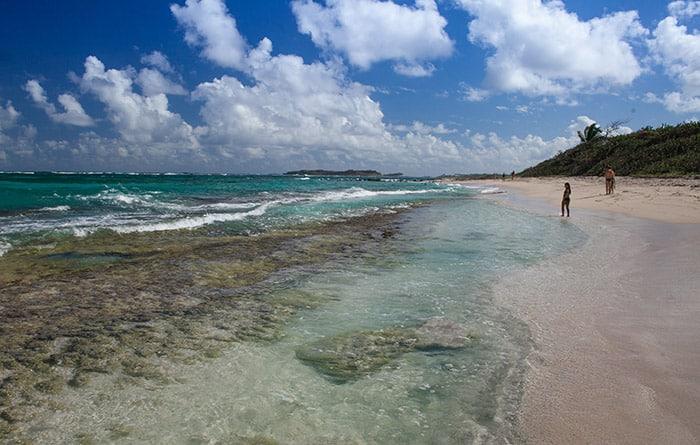 Cap Macré (Anse Baleine, Anse Four à Chaux)
This wild, authentic beach is a popular place for camping and relaxation. About 800 m from the shore, a coral reef protects the beach and creates a cove of tranquil waters that are known for their wonderful depth of colours – from deep blue to turquoise. There are cozy shady areas in the underbrush where you can easily set up your tent or hammock.